Exterior Trim
Boral - Post Wraps - PVC
Ironstone Building Materials
 ***Due to very high demand and lack of available material from our suppliers, our inventory is never guaranteed***
---
RETURN POLICY: Please Read – New Policy – Effective 8/12/22
No Returns After 30 Days
Receipt Is Required
10% Handling Fee May Apply
Returned Items MUST Be Unopened, Boxes Can Not Be Wet, and In Original Resalable Condition
NO RETURNS On Special Order, Shingles, Or Clearance Items
---
MATERIAL CUTTING POLICY: Ironstone does NOT provide any material cutting services.  Due to insurance regulations, Ironstone is prohibited from providing electric saw use to customers.  We may provide a handsaw or customers may bring their own saw to cut down the material.  Ironstone is not responsible for any injury which may occur while the customer is cutting material.  Sorry for any inconvenience.
---
In Stock PVC Trimboard and Molding
***Overstock PVC Trimboard Pricing and Availability Is Subject To Change At Any Time***
---
In Stock: Azek Historic Sill 7′ Length – $14.00/Piece

---
In-Stock SALE: Overstock PlyGem PVC Skirtboard – WOODGRAIN ONLY

10% Off Full Skid Only
5/4x4x18′ (48Pieces/Skid – $1209.00) – $28.00/Piece
5/4x8x18′ (40Pieces/Skid – $1692.00) – $47.00/Piece
Please Call For Availability

---
—
Sustainability Never Looked This Good ®
Boral TruExterior™ Trim creates an entirely new category of reliable exterior trim that offers exceptional performance, remarkable workability and a great, long-lasting look without the limitations of wood or PVC.
Comprised of more than 75% recycled or rapidly renewable materials

Cuts, routes and mills with ease
Can be painted any color

Resistant to rotting, cracking, splitting and termites

Reversible – Authentic wood grain and smooth sides

Maintains a high level of dimensional stability during periods of moisture and temperature change

Ideal for ground contact

Does not require end-sealing or special adhesives

IN STOCK: Closeout Boral TruExterior
5/4″x8″x12′ Woodgrain/Smooth – $19.00/Piece
1″x2-1/8″x12′ Batten – $5.95/Piece
Primed and Ready For Paint!
---


WOLF PVC Column Wraps
| | |
| --- | --- |
| 4″x4″x8.5′ – $84.00 | 4″x4″x10′ – $103.00 |
| 6″x6″x8.5′ – $112.00 | 6″x6″x10′ – $132.00 |
| | 8″x8″x10′ – $149.00 |
Wolf Wrap Accessories
| | |
| --- | --- |
| 4″ Bed Molding – $11.65 | 4×4 Collar – $20.00 |
| 4″ Bed Molding XL (for around bottom of 4″ COLLAR) – $13.50 | 4″ Base Cap – $9.50 |
| 6″ Bed Molding – $15.50 | 6×6 Collar – $34.00 |
| 6″ Bed Molding XL (for around bottom of 6″ COLLAR) – $16.00 | 6″ Base Cap – $11.50 |
| 8″ Bed Molding – $19.50 | |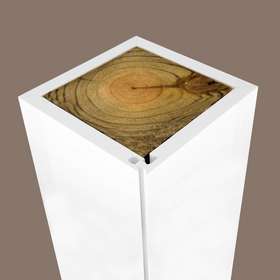 ---
RDI 4 Piece Vinyl Post Wrap
White Only
***Limited Quantities – Please Call***
| | |
| --- | --- |
| 4″x4″x96′ – $74.00 | 4″x4″x120′ – $93.00 |
| 6″x6″x96′ – $117.00 | 6″x6″x120′ – $124.00 |

---

Azek PVC Column Wraps
***Special Order – Call For Pricing and Availability***
| | | |
| --- | --- | --- |
| Special Order: 4″x4″x10′ | Special Order: 6″x6″x10′ | Special Order: 8″x8″x10′ |
---
Special Order Columns
***Call For Pricing and Availability***
Click HERE For the HB&G Website